Call for Applications - TEVET Apprenticeship Training Intake for 2022
21 July, 2021 by HEC Media in Admissions
The Ministry of Labour invites applications for training in the Technical Colleges for 2022 intake for apprenticeship courses. Qualifications which may be obtained are:
Malawi TEVET Foundation Certificate-(Level 1)
Malawi TEVET Intermediate Certificate-(Level 2); and
Malawi TEVET Advanced Certificate-(Level 3).
The table below shows courses on offer: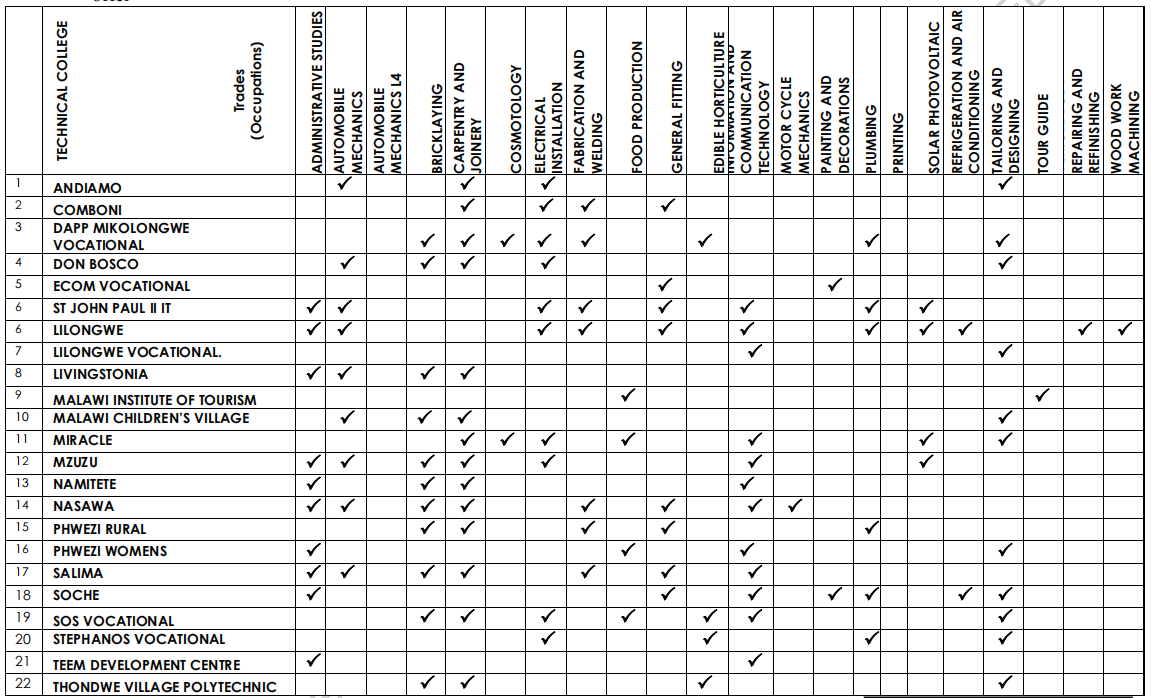 Application Requirements
All applicants must meet the requirements listed below:
Should be aged 16 years and above.
A Malawi School Certificate of Education or its equivalent.
Credits in English, Mathematics and Sciences are an added advantage
How To Apply
Interested candidates should complete the application form available at TEVET Regional Service Centres, Technical Colleges, District Council Offices, District Education Managers Offices (DEMs), Teacher Development Centres (TDCs), NICE offices and on the website; www.tevetamw.com. A non-refundable application fee of K5,000.00 should be deposited ONLY into the following Standard Bank Account
Number: 910000 126 5927, Account Name: Lilongwe Technical College, Branch: Lilongwe.
A duly completed form together with a copy of MSCE or its equivalent and the deposit slip should be submitted or sent to any of the following addresses below:
North: The Principal, Mzuzu Technical College, P.O. Box 316, Mzuzu, Tel: 0993 660 646
Centre: The Principal, Lilongwe Technical College, P.O. Box 190, Lilongwe, Tel: 0888 384 148 / 0999 225 387
South: The Principal, Soche Technical College, P/Bag 515, Tel: 0991 846 172
ONLY THOSE APPLICATIONS RECEIVED BY 31ST AUGUST, 2021 WILL BE CONSIDERED. TECHNICAL COLLEGES ARE EQUAL OPPORTUNITY INSTITUTIONS. FEMALES and PERSONS WITH DISABILITIES ARE ENCOURAGED TO APPLY.
Download application form below:
2022 Apprenticeship Recruitment Application Form July 2021-Final.pdf