UNIMA To Offer Short Courses for Secondary School Science Teachers and Education Practitioners
20 October, 2021 by HEC Media in Short courses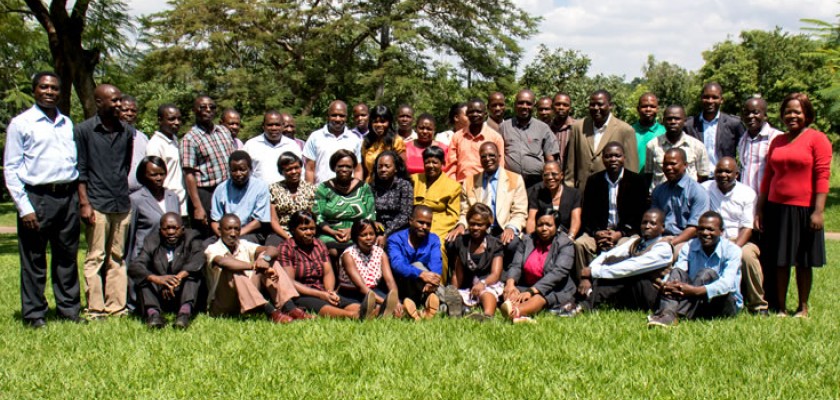 The Education Foundations Department, under the School of Education of the University of Malawi, with support from the USAID funded Strengthening Higher Education Access in Malawi Activity (SHEAMA), led by Arizona State University (ASU), invites applications for admission into any of the following five short courses that will be delivered through a blended form of face to face and Open Distance and E-learning (ODeL) delivery.
1. Foundations and Practices of Education for Science Teachers
The aim of this course is to enhance Science, Technology and Mathematics (STEM) subject teachers' understanding of education foundations and efficient teaching principles and methodologies for different STEM subjects.This course considers the fact that the participants are practitioners with some experiences but they are not grounded in education foundations and practices of teaching that can enhance their teaching practice and running of schools. As such, the course will be as practical as possible.
Indicative content
Professional Socialization of Teachers and the Sociology of Teaching, Testing and Measurement, Foundations of Philosophy of Education, Instructional Media and Technology, The Teaching of Sciences (Chemistry, Physics and Biology), The Teaching of Mathematics and The Teaching of Computer Studies.
Target Participants
Science, Technology, and Mathematics subject teachers, especially those in Community Day Secondary Schools (CDSS's) who are yet to acquire qualifications for teaching in secondary school and are yet to upgrade themselves.
2. Guidance and Counselling
This short course aims at supporting school counsellors, youth counsellors and teacher mentors with knowledge, skills and strategies for providing guidance and counselling services to students and young people. Young people in contemporary Malawi are facing multiple challenges that require them to have necessary skills and competencies to resolve issues and exploit opportunities available. The provision of Guidance and Counselling services to schools and youths, serves to empower students with knowledge, skills and attitudes to accomplish their goals in school and beyond.
Indicative Content
Concepts of guidance and counselling, Forms of guidance and counselling, The role of guidance and counselling in schools, Counselling approaches, The counselling process, and Ethics in counselling.
Target Participants
School Counsellors, Teacher Mentors, Head teachers, Deputy Head teachers and teachers, NGOs working with youths, Youth, Workers etc.
3. Project Planning and Management
This course aims at equipping participants with the theory and practice of project design, implementation and monitoring and evaluation. Participants will also be grounded in the fundamentals of social science research methodology. The mode of delivery will be as practical as possible with close reference to project case studies in the Malawian context. Particular focus will be put on case studies from education sectors.
Indicative content
Theories of Change, Program Theory, Logic Modelling, Project Indicators, Theory and Practice of Monitoring and Evaluation (Theories, Models and Designs), Principles of project Management (Project Cycle, Project Management Knowledge Areas and Change management) and Overview of social research with SPSS Application.
Target Participants
Education Practitioners, consultants, NGO staff, government officials, and donors that are engaged in project works.
4. Leadership and Management for Education Practitioners
This course aims at offering an opportunity to Educational Practitioners to acquire knowledge and develop supportive skills and strategies for effective and efficient instructional and generic leadership and management of education institutions and organizations.
Indicative content
Leadership and Management Theories, Change Management, Effective Decision-Making for School Leaders, Communication for Education Leaders, Developing Motivating Strategies for Educators, School-Based Supervision and Teacher Management and Upholding School Discipline for Teaching staff and Students.
Target Participants
Head teachers/Principals and Managers for both Private and Public Education Institutions, Proprietors of Educational Institutions, Education Officers at Central, Divisional and District Levels.
5. Inclusive Education
This short course aims at equipping participants with knowledge, skills and attitudes that will enable them to effectively implement inclusive education and build inclusive culture at their schools in which no student is excluded from full participation in teaching and learning processes and thereafter attaining her or his full potential in education.
Indicative Content
Identification of students with special needs, teaching and supporting students with special needs in inclusive classrooms, understanding basic sign language to support students with hearing impairment in inclusive schools, creating safe and supportive schools and communities to build inclusive culture.
Target Participants
Public and private secondary schools' teachers, staff from teacher training institutions, and NGO staff involved in education and training.
Course duration
Each short course will run for 6 weeks in a blended mode. The first two weeks will be face to face, the next three weeks online and the last week face to face. The study period is from 13th December, 2021 to 21st January, 2022.
Tuition Fees and Scholarship Opportunity
The tuition fees for each course is K180, 000.00. Few scholarship opportunities are available under SHEAMA, especially to applicants teaching STEM subjects in rural-based Community Day Secondary Schools (CDSS). These scholarships will be made available to a few candidates who will meet the program set criteria. Scholarship application forms can be downloaded from the University of Malawi website under ODEL programmes at https://www.cc.ac.mw
Entry Requirements
Applicants should be holders of at least an MSCE certificate or must have a secondary school teaching experience, or be working with a relevant institution. Applicants from SHEAMA targeted districts of Karonga, Kasungu, Salima, Balaka, Mulanje and Chikwawa, women and persons with disabilities, are particularly encouraged to apply.
Mode of Application
Applicants should fill in an application form which can be downloaded from the University of Malawi website under ODEL programmes at https://www.unima.ac.mw, or can be requested through e-mail from: [email protected]. The filled forms should be sent via [email protected] or through the following postal address.
The Head of Department, Education Foundations Department, School of Education, University of Malawi, P.O. Box 280, Zomba.
The closing date for receiving applications is 12th November, 2021. For further information, please email the EDF Department at [email protected] or call the Short Courses Coordinator Dr. Chikumbutso Manthalu on mobile number 0888 594 508 during working hours only.
Note: Organizations intending to sponsor a group of participants may also contact us for more details and special arrangements.
Download application forms below:
EDF Short Courses Application Form- 2021.pdf
2021 SHEAMA SCHOLARSHIP APPLICATION FORM February 2021 (blank).pdf