MUST Introduces Masters in Biodiversity Informatics - Calls For Applications
09 July, 2021 by HEC Media in News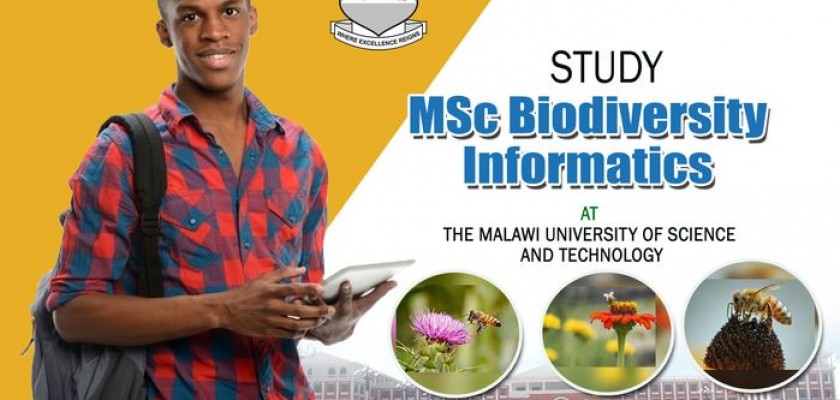 The Malawi University of Science and Technology (MUST) is inviting applications from suitably qualified candidates to pursue a two-year Master of Science (MSc) in Biodiversity Informatics programme. The MSc in Biodiversity Informatics programme aims to equip students with skills in mobilizing, managing, publishing and using biodiversity data to inform decision making processes in conservation, agriculture, spatial planning and health.
The programme will be offered on a fulltime basis, with course work covered in the first year. The second year will be dedicated to research, leading to an MSc thesis. Module delivery will be sequential over two semesters. This will provide an opportunity for students to cover the first year course work over a longer period by taking a set of modules at a time. Module delivery will be in a blended format, i.e., a combination of online learning, on campus face-face and field-based learning.
Admission Requirements
Candidates must have the following:
A Bachelor's degree from any recognized and accredited university in a relevant field
Evidence of practical and relevant experience in related fields for those with degrees in other fields
A letter of undertaking to pay the required fees from the applicants or their parent/guardian or sponsor with evidence of reliable source of income.
Tuition fee for the above programme is US$5000 or Malawi Kwacha equivalent per academic year. Limited tuition scholarships are available for SADC and Malawian applicants.
To be considered, candidates must submit the following mandatory requirements:
A completed postgraduate application form available at MUST registry or on MUST website here
A motivational essay (1 page)
Certified copies of academic certificates
Academic transcripts
Proof of funding, for example sponsorship letter or copies of appropriate financial records for self-sponsored students
Two reference letters (one academic and one professional)
An original bank deposit slip/proof of payment of a non-refundable application fee of MK10,000 for Malawians and SADC nationals and US$50 for all other international students. Payment of application fees should be made into the following bank account:



Bank Name: Standard Bank

Branch: Limbe

Account Name: MUST Students Account

Type of Account: Current Account

Account Number: 9100001063429

Swift Code: SBICMWMX

Applicants can apply for the limited tuition scholarships that are available for Malawian and SADC applicants at http://biodiversity.must.ac.mw/admissions/scholarships/apply
Deadline for Submission of Application Forms
The deadline for receiving completed applications is Wednesday, 21 July, 2021. For enquiries please email: [email protected] or phones: +265 1 478 279/ +265 1 478 000. Completed application forms should be sent to:
The University Registrar
Malawi University of Science and Technology
P.O. Box 5196,
Limbe
MALAWI
Email: [email protected]; copy: [email protected]
Applications can also be submitted online at http://biodiversity.must.ac.mw/admissions/portal