Ishango AI DataQuest Scholarship for Women
15 June 2022 by HEC Media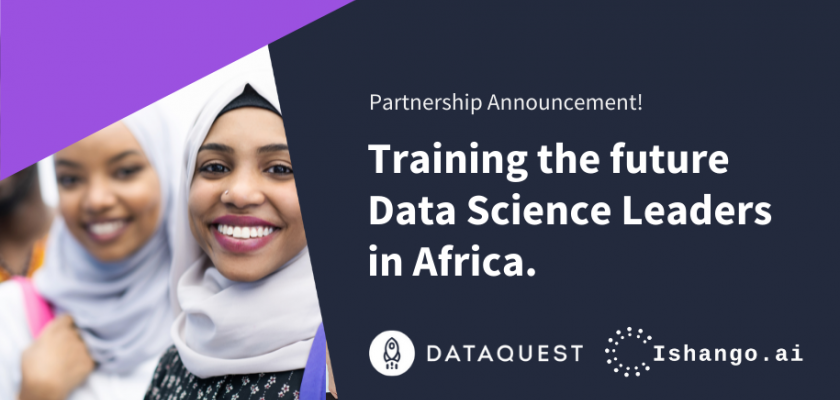 How to Apply
---
Sign up here to enroll
---
Deadline:
31 August 2022
[CLOSED]
Specific Conditions:
Studies: N/A | Host countries:
n/a
| Specialization:
Any
About the Ishango AI DataQuest Scholarship for Women
About Ishango
Ishango.ai is an innovative social enterprise bringing high-skill data science jobs to Africa and demonstrating the wealth of talent available on the continent. Through our two month data science fellowship, fellows gain real-world experience working remotely on value-adding projects for global host organizations. Since its launch in 2021, Ishango.ai has supported data science talent from seven African countries and connected them with global companies from across Europe, U.S., and Australia.
About Dataquest
Dataquest was founded in 2015 to help learners build real-world skills and advance their careers in data. Dataquest is the #1-rated, browser-based, self-directed data science learning platform. Users learn concepts, write code, and build real-world projects directly in their browser. Dataquest's learning paths are expertly designed to help learners reach their data career goals efficiently, regardless of their experience level. Dataquest has helped tens of thousands of learners start or advance their careers at companies like Amazon, SpaceX, and Tesla.
Ishango.ai in collaboration with DataQuest are providing aspiring African female data scientists with a time-limited scholarship to improve their Data Science knowledge and experience by taking courses on the DataQuest platform.

This is an opportunity for you to prepare yourself for the next Ishango.ai Data Science fellowship and your future journey into Data Science.

This opportunity requires about 8 -10 hours weekly for 4 - 6 months in time and dedication to complete so please make sure you are committed to make the best out of this opportunity before you sign up.
How To Apply
Sign up here to enroll